We are proud to announce the "Clean & Safe" certification with all prevention, control and surveillance procedures defined by Turismo de Portugal, in accordance with the guidelines of the Directorate- General of Health regarding Covid 19. Looking forward to welcoming you this year!
Pine Hills is proud to be a Non Smoking condominium for health and safety.
No pets, only guide dogs are allowed at Pine Hills.
Arround Pine Hills you can find numerous charging stations to charge you electric car including Fast Chargers up to 100 kW and even above. Close to the Vilamoura Marina there is even en charging centre with many stations from AC to fast DC chargers on walking distance of the Marina.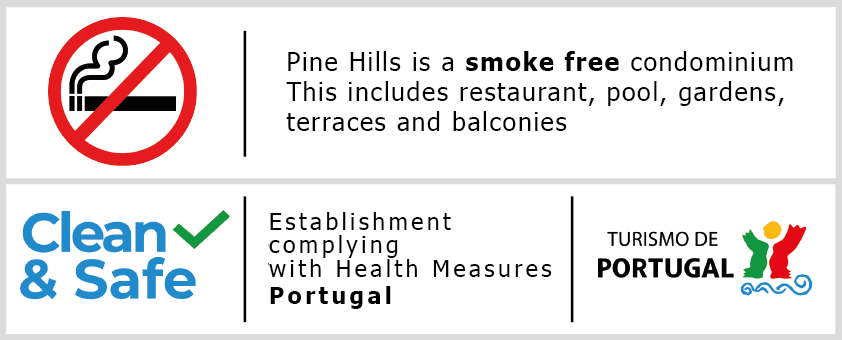 PINE HILLS, VILAMOURA. LUXURY HOLIDAY APARTMENTS FOR RENT IN THE HEART OF THE ALGARVE.
This uniquely designed private condominium of 55 luxury apartments sits on almost 22.000 sq/m of beautiful gardens. With an inviting pool area and Lilys Bar as the center piece.
About half of the modern and spacious apartments are available as self-catering accommodation for short-term-rental. The rest are occupied by owners and residents who live here full time.
A hidden Gem on the central Algarve, Pine Hills offers the best of both worlds. Peaceful and tranquil yet close to the resort town of Vilamoura with its' Marina, beautiful beaches, restaurants and all amenities. And only half an hour from the airport in Faro.
Pine Hills is waiting to host your next perfect holiday. Whether you´re getting away for an activity-packed family holiday or just a weekend break. Pine Hills' self-catering' accommodation offers you a wonderful experience. For health and safety reasons it is not allowed to smoke in any of the common area's of Pine Hills, this includes the bar, the gardens, the swimming pool as well as the terraces of the apartments.
Vilamoura is one of the three corners of the Algarve's coveted "Golden Triangle." With Quinta do Lago and Vale do Lobo making up the other two. The area is famed for its abundance of quality golf courses, and many other outdoor sports and activities. This together with great shopping, fantastic restaurants, night life and much more makes the "Golden Triangle" a great place to visit.
Golden sandy beaches and more than 300 days of sunshine a year awaits you in the beautiful Algarve.